Meet Our Donors
Mr. and Mrs. Steven A. Krempa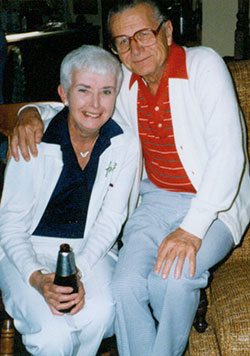 Mr. Steven Krempa was born in 1916 in small farming town in New Jersey. He was forced to overcome adversity at a very young age in an abusive home, struggling to be successful in school with learning disability. Nonetheless, he persevered past these challenges, attending the local community college at night during the depression while working during the day. Steve received training in the field of Accounting, but before he could continue his education, he was called into service by the U.S. Coast Guard. Stationed in Guam in the midst of the war effort, he convinced his commanding officer to allow him to work with the Navy to start a small commissary for service members — his first entrepreneurial effort in what was to be a very successful business career. After the war had ended, Steve went to work for a number of major corporations, including Swift for 18 years and Kemper for 20 years, living and traveling throughout the United States.
Steve's first marriage produced two beautiful children, Janet and Thomas. While he and his first wife divorced, Steve has remained close to his children to this day and is proud to have 4 grandchildren and 2 great grandchildren.
Steve met the love of his life, Virginia, as tourists in Mexico and they were married shortly thereafter. Virginia was born in Lancaster, New York, received a degree in accounting from the University of Buffalo and worked for Rustoleum for many years. He had Virginia both shared a love for each other, golf, and global travel. They both had rewarding careers and spent their retirement together traveling the world through Inter and Elder Hostels on college campuses. In August 2007, Steve lost his beloved wife after a prolonged illness.
Steve has remained grateful for the opportunities that community college made available to him and believes very deeply that young people can overcome adversity if others are willing to invest in their future. In October 2007, he named Harper College as one of the beneficiaries in his estate plan and has directed the bequest to be used to establish the Virginia M. and Steven A. Krempa Endowed Fund to support business students and programs at Harper College for years to come.